FH Stories | WONDERFUL WOOL!
Six generations of Paul and Kristina Boulden's family have lived and farmed on the Romney Marsh since 1882, overlooking the glorious expanse which is an Area of Outstanding Natural Beauty full of diverse habitats, extensive coastline and rich history. From the farm they run Romney Marsh Wools and Romney Marsh Shepherds Huts.
ROMNEY MARSH WOOLS
Wool is a key part of their endeavours, with currently 1,000 ewes lambing in the traditional season of March and April, and Romney Marsh Wools was founded in 2008.
Kristina says "Our British wool is considered to be one of the most adaptable fleeces – cream, versatile, semi-lustrous and versatile enough to make it a popular choice for knitting wool, yarn and cloth.
"We take our fleeces to traditional weavers who hand process, then spin and weave our yarn into beautiful wool rugs, throws and other items. They have a unique quality because of the Romney sheep wool, and sometimes we add in other naturally coloured native yarn which gives a choice in design, colour and texture. We are quite sure they will become family heirlooms, to be treasured for years."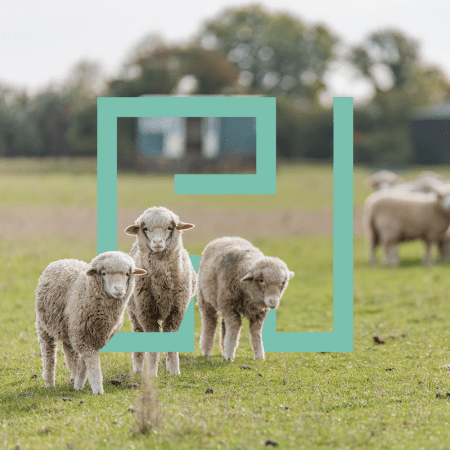 The Romney Marsh Wools range, including lanolin toiletries, snuggly throws, clothing and accessories, is created from home-grown fleeces, carefully handpicked for the highest quality, hand-processed by UK weavers and produced by local craftspeople.  Wool is not only natural, but renewable, sustainable and incredibly versatile.
WHAT'S SO SPECIAL ABOUT A ROMNEY SHEEP FLEECE?
The Romney or Kent sheep is a "longwool" sheep, recognised as a breed in England by 1800. To understand why the breed is prized, you need to know about microns!
The softness of wool is measured in microns looking at a single fibre strand. On average a human hair is about 100 microns, a highland sheep is around 50 microns (so quite rough and not soft to wear against the skin).
However Romney fleeces are considered to be one of the finer British Breeds at around 32 microns. Merino knitting wool, which is world famous for being super fine, has been developed down to as fine as 9 microns making it over five times finer than a human hair.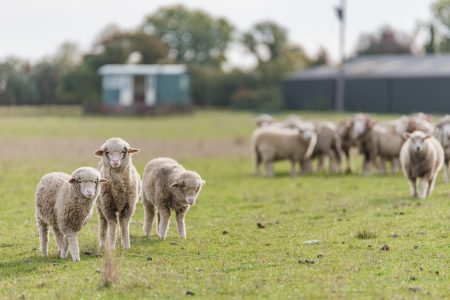 CRAFTING WITH WOOL
Rachel Murrell makes handcrafted traditional dolls under the name Ophelia Dolls and also runs needle felting workshops for guests at Romney Marsh Shepherds Huts.
"I've been a customer of, and friends with, Kristina and Paul for 10 years now – I love going over there to collect my wool and seeing all the sheep. As well as using their wool in my business, I also work with Romney Marsh Wools, sewing their ponchos for them and other bits and pieces.
"The needle felting workshops are a great way to unwind, sitting in your Shepherds Hut or in the little garden, learning about the wool and creating a memento that you've made yourself" Rachel says.
Needle felting is a craft which is becoming more popular. It basically involves rolling fibres into a shape and then using very fine, barbed needles to bind the wool together.
"Beginners usually find it easiest to start with a simple shape – something round, which can turn into a chick or a pumpkin or a Christmas pudding depending on the time of year! More advanced crafters will use a metal frame to create a 3D piece" says Rachel.
There's a strong connection with nature, as Rachel explains the techniques of preparing the fleeces, natural dyes and the vast range of colours that can be obtained from plants.
Workshops last 2-3 hours, and guests also receive a Romney Marsh Felting Kit to continue their new skill at home.
ROMNEY MARSH SHEPHERDS HUTS
The sheep also appear grazing round the Romney Marsh Shepherds Huts where guests stay in huts bespoke-built by a local craftsman using original 1900s plans.
Each one is equipped with a small kitchen, shower room and toilet, fenced garden (sheep can be nosy!), and a fire pit (for toasting marshmallows!)
Complementary locally produced milk, tea and coffee are provided on arrival, as well as Romney Marsh Wools lanolin toiletries and Romney snuggles, cuddly real wool throws for when the evenings cool down.
The Romney Marsh has many seasons and is renowned for its glorious 'desert like' warm summers as well as the mysterious 'Marsh Mist'.
Top tips from Paul and Kristina for the perfect farm staycation are:
• Bring all weather clothes – for cooler evenings around the fire pit
• Wellies –fields can be muddy!
• Trainers or walking boots – for exploration
• Waterproof jacket – simply a must
• Phone/camera to capture those special moments
www.romneymarshshepherdshuts.co.uk
Photo credits: Madeline Delves Photography