FH STORIES | UN1QUE IN HYTHE
Operating as an art collective, Un1que is home to hand painted furniture by Ali Dakin, handcrafted textile art by Carol Dixon and photography by Nigel Parsons under the joint name Click 'n' Stitch, plus guest artist Francoise Lloyd.  Take a look at 93 High Street, Hythe, next door to Boots.
ALI DAKIN – A PASSION FOR COLOUR
Ali adores colour, the brighter and bolder the better, creating art furniture from items that could otherwise end up in landfill or skips.
She said: "I like to live with a piece for a little while so it can tell me what it wants to become.  Some pieces turn out to be what I call Alice in Wonderland style, quirky, eclectic and bright, while others lend themselves to an art deco or fine art transformation.
"Every piece is a complete one-off, and sometimes a customer will bring a piece in which perhaps they've inherited and doesn't fit in with their décor but is still much-loved."
Sustainability and supporting the local High Street is important to Ali.  "By rescuing items of furniture and giving them a new life in their new homes I feel as if I'm helping to do my bit, and I shop locally for the bits and pieces I need."
Instagram Un1que.art60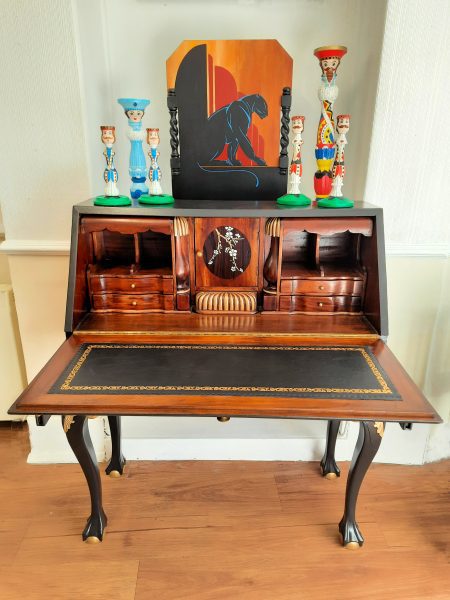 CLICK 'n' STITCH
Photographer Nigel Parsons is the 'click' and textile artist Carol Dixon is the 'stitch' behind the name!  The pair work independently and also combine their joint skills to create unique pieces.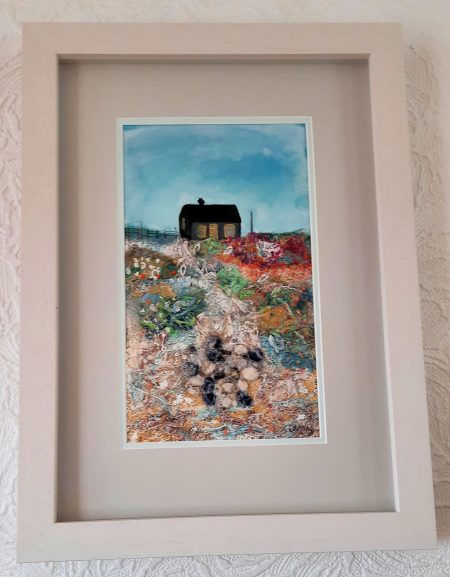 CAROL DIXON – A PASSION FOR TEXTURE
Carol is a mixed media artist, creating hand painted, stitched and embellished original textile pictures.
She uses techniques including hand dyeing, burning, dissolving, melting and felting as well as embroidery and beading to create her unique textile pieces, with great depth and a 3D like quality.  Using materials like vintage linens, laces, threads and paper and recycled items such as tea bags, fruit nets and maps add a distinctive feel.
Carol also makes a range of handmade felted fantasy sheep, including the latest 'mermaid' sheep (unique to her) which includes fleece from the Romney Marsh and collections from the shores around use.  She also creates pictures using Nigel's photographs to create a Click 'n' Stitch combo.
NIGEL PARSONS – AN EYE FOR A PHOTO
Nigel takes extensive shots of the area, focussing on his love of nature, landscapes and beachscapes, as well as some of the remarkable buildings around.  As well as his own work of personally signed, mounted and framed pictures, Nigel photographs Carol's work, with their full range available in the gallery in the form of greetings cards, cushions, bags and many other items.
Carol and Nigel both agree that being on the High Street, collaborating with other artists, is a great opportunity and both love the fact that so many smaller, creative businesses are coming into the area, not just Folkestone but now Hythe as well.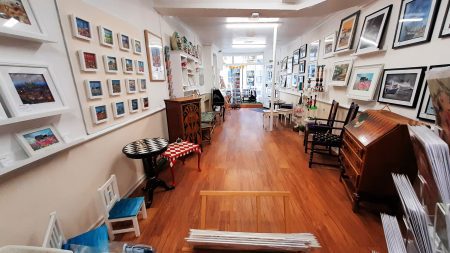 Nigel said: "Our High Street is quite special, with so many independent businesses, and we all know each other and support each other."  "We love meeting the people who come in and look around,"  explained Carol.  "There's a fantastic feel to being able to explain the creative process and talk about our work to new and existing customers, and to base our work on the area we've known, loved and lived in for over 30 years."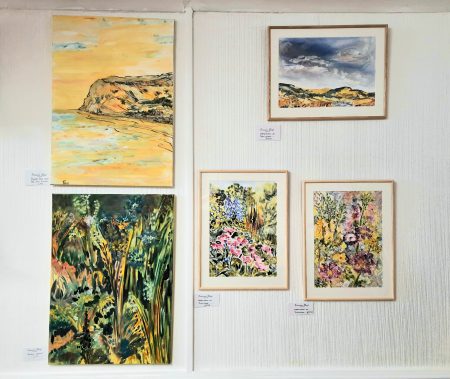 FRANCOISE LLOYD – THE PAINTER'S EYE
Love brought Francoise from France to our corner of Kent, and is also what kept her here.
"I love this area, I take so much inspiration from the beauty that surrounds us, and I am always surprised by how much more there is to seek out" she said.
She loves colour, movement and texture, often choosing to paint flowers and gardens, taken from real life or from memories.
"Each piece is unique. I prefer not to make prints, because I believe that each one has its own life, and even if I were to paint the same subject again it would be different.  I like to work on recycled paper, and I'll often use both sides of it.
"I use acrylics, water colours, pen and ink and even bleach to create effects, although for me it's not the process that matters so much but the end result and the effect it has on people."