FH STORIES | "THE BLUE PLAQUE GUY"
Take a wander down Folkestone's Old High Street and surroundings and you'll notice many of the shops and houses have a blue plaque in the window explaining who lived or worked there in days gone by, and perhaps what the building had been in a previous life.
Simon Warren is "the blue plaque guy" who moved to Folkestone from London 18 months ago and set up his innovative business commemorating the lives of the town's residents.
LOVE AT FIRST SIGHT
Simon explained: "I was an architecture and interiors photographer in a previous life, and came down here for the first time ever for a photoshoot.  I was completely blown away by the place, it was love at first sight!  So 18 months ago I moved down from London, and set up www.herebeforeus.co.uk in November 2021.
"I've always loved history, and there is a wealth of it here in Folkestone and around, particularly the fishing and military connections.  I'm curious about people and about buildings, and I know many other people are too.
"I've really put down roots here, people are friendly and there's a great buzz about the place.  I started The Folkestone Photography Group on Facebook as a way of engaging with other photographers, expecting maybe 30 people might be interested – and now it has 1100 members!"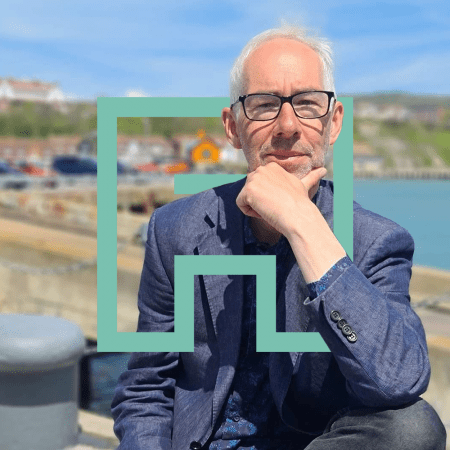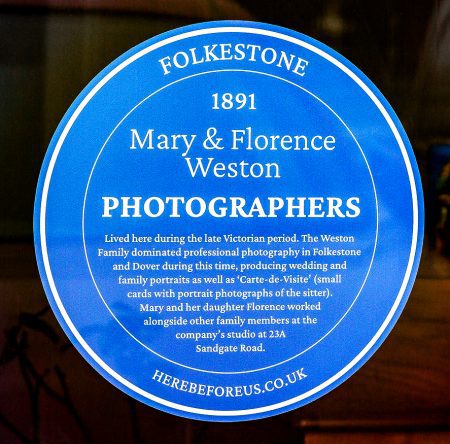 ABOUT HERE BEFORE US
Most people are familiar with the blue plaques that English Heritage attach to buildings with a historical or celebrity connection – people as diverse as Mozart, Jane Austen and David Bowie have all been honoured this way.
Simon wanted to celebrate the more ordinary, perhaps even forgotten, residents who still had interesting lives and occupations.
He said: "Our plaques show the names, dates and occupations of people who lived and worked in a building in previous times.  They may have been a wealthy businessman, a railway signalman, cook, boat maker, milliner – who knows?
"We access all kinds of research, including but not limited to previous censuses, for the period 1881-1939 to uncover one or more interesting former residents to feature on the plaque.  Everything is triple-checked – it's time-consuming but fascinating.
"We then print the blue plaque on flexible vinyl, which is easily attached to the inside of a window so visitors and passers-by can see it.  You can take it off the window to reposition it easily, and because it's inside it's not subject to the weather."
GETTING OFF THE GROUND
Simon has developed his blue plaque business by building and designing a website and sourcing suppliers for the vinyl.  He made a promotional leaflet and later a sample vinyl on a piece of Perspex and took to the streets!
He said: "I simply went up and down the Old High Street, calling into all the shops and explaining the concept.  The response was amazing, and many shops now display a plaque in their window – I think that's where the nickname "blue plaque guy" probably came from, my first trawl of the shops round there.
"One of my favourite facts I discovered is that what is now Moda, the independent gift shop on Rendezvous Street, used to have a hairdressers upstairs, while downstairs was a piano rental business.  The chap would hire out pianos and most customers ended up buying them… presumably he had to keep buying more stock!"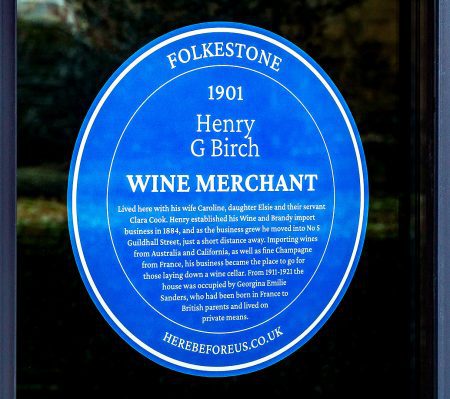 GIFTS WITH A TWIST
As the business is taking off, Simon is now getting more and more interest from homeowners, with many choosing a blue plaque about their house as a gift.
Simon explained: "I just need the address, and then I can do my research. Then I deliver the plaque to the customer in person, and talk them through the history of their house's previous occupants.  People seem to love the surprise element – hardly anyone wants to know the details before I arrive with the plaque, they like the 'reveal'!"