FH STORIES | TALKING CHOCOLATE AND VEGANISM
LOOKING AHEAD AT THE FOOD BUSINESS, POST-COVID
Did Covid change anything? Yes and no, according to Folkestone businessman Adrian Ling.
Plamil Foods makes plant-based food and drink (most famously chocolate), and in 2020 Adrian took early measures to steer the company through the pandemic. He also used the time to invest in new products, including environmentally-friendly wrapping, and equipment, moves which are bearing fruit now.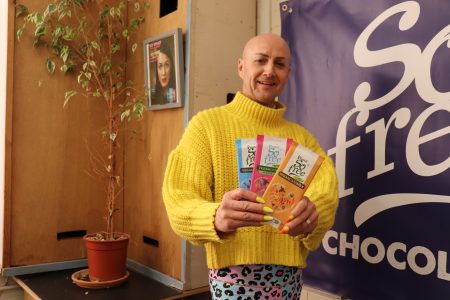 TRANSITION TO THE NEW NORMAL
The 'new normal' is a phrase we all know.  Adrian says "2020 saw the market change, to much more home buying and home cooking – two years later people are going out much more of course, and that's changed the dynamics.
"Combine this with social change – the cost of living crisis and the fact that many foreign workers have left the country and there's a huge impact that manufacturers have to take into account."
Some home-based food businesses set up during the pandemic are closing, while others continue to thrive; Adrian works closely with – and supplies to – other manufacturers, who are reporting the same, especially with reports of online sales falling considerably in most sectors.  "Maybe there's hope for the High Street yet?" he muses.
VEGANISM – HERE TO STAY
Plamil (short for "plant milk") was founded by Adrian's late father Arthur in the 1960s. Arthur was a visionary – a vegan before the word was invented (he stopped eating meat in 1926, when, aged seven, he saw a fish being killed).
Adrian is also a vegan, but, he says, "not a preachy one!  Veganism is a journey not a destination, if you have a little bit of something vegan then you're on the path and hopefully you will follow the path a little bit further every time.  I don't have judgemental attitudes about it."
We asked him what he thinks about the ever-growing range of vegan foods in store: "There's a much better choice nowadays, but the nutritional side could be greatly improved – just saying something is vegan doesn't necessarily make it a sound nutritional choice."
IS FOOD TOO CHEAP?
"This won't be a popular opinion, but food has been too cheap for too long – people used not to care about farming processes or nutritional values.  That's changing, as people have become more aware about how meat animals for example are treated, the role of pesticides in agriculture and so on.
"I think it's essential that we value the food we eat far more, and think about its impact on the planet and our bodies" Adrian says.
THE B WORD…
Brexit means we'll all pay more for our food says Adrian.  "Shoppers probably don't think about the complexity of the supply chain, the organisation required, and the interdependence with other countries.  But the end result of increased costs, time, paperwork, delays, rising transport costs are already coming through at the tills, and will continue to do so."
The other B word is the bread basket of Europe – the Ukraine.  "The terrible war there is of course a human tragedy, but the rising cost of wheat and oils like sunflower oil is already impacting on prices and shortages.
"I do believe shoppers can accept this and understand why, but when checkout prices are much higher there will be pain and difficult choices because it is mostly going to affect those on a lower income" he comments.
BACK TO CHOCOLATE!
"We are in the business of creating pleasure, and we'd love everyone to have a treat from time to time" Adrian says.
"That said, chocolate is not an essential everyday purchase – but if you can afford to treat yourself, why not?"