FH STORIES | STEPPING BACK IN TIME
WALKING THROUGH HISTORY
Chris Cole on the Romney Marsh and Tony Quarrington in Folkestone and surroundings both share a unique ability – to tell us things about our area that we never knew!
We talked to them both – see if you're as mind-blown as we were!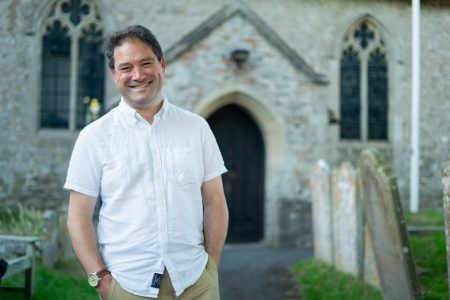 HIDDEN HISTORY WITH CHRIS COLE
Archaelogist Chris Cole had the idea of a historic tour of Romney Marsh over 20 years ago, but the practicalities were born over a few beers in Crete with Hidden History colleague Simon Butler and the first tour took place in 2016.
Guests climb aboard a minibus and are treated to a three day tour which covers Dymchurch, Newchurch, St Mary in the Marsh, Burmarsh, Hythe, Brookland, Fairfield, Lydd, Old Romney, Ivychurch, New Romney, and sometimes Dungeness.
Chris says: "The archaeological history of this area goes back to the Bronze Age, which began around 2100 BC.  Lydd used to be an island, and New Romney a port.  St Nicholas Church in New Romney was effectively a lighthouse – you could navigate along the rivers from there to reach London.
"Early England was formed on Romney Marsh, and the early laws of our Cinque Ports then became the national laws of the country, pre-dating the Magna Carta of 1215."
We asked Chris who his guests are: "They come from all over the world, as far afield as Canada and the US, and from all over the UK.  Because our tours are weekdays, they tend to be retired people, but we have had teenagers bring their parents along too."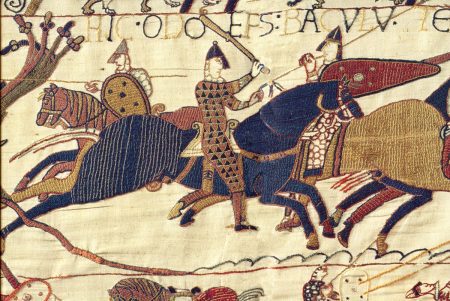 Chris grew up on the Marsh, and says he's spent 30 years digging it up!  "People have this idea that archaelogists are always finding amazing hoards of gold, jewels and swords… sometimes that is the case, but because the Marsh has always been an agricultural area it's different here.  We find traces of old farms, and in more recent history I've been involved in the excavation of a WWII aircraft near Romney."
We asked for one final mind-blowing fact from Chris: "Parts of the Bayeux Tapestry were made in St Nicholas Church in New Romney, and it's made from Romney Marsh wool!"
For more information, visit www.hiddenhistory.co.uk.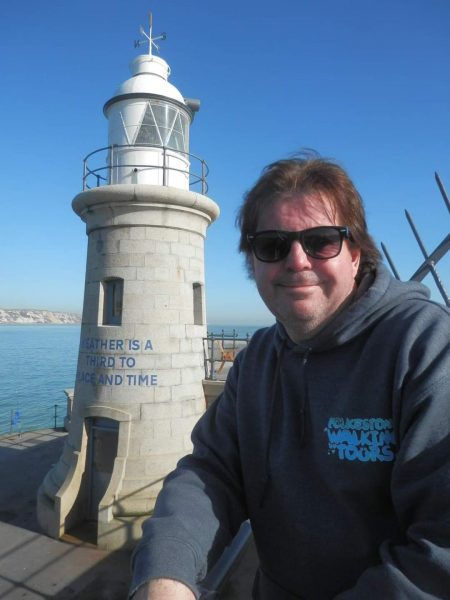 TONY QUARRINGTON – HISTORY WITH A TWIST
Rochester born Tony spent his summer holidays in Folkestone in the 60s and early 70s – his mother thought the town had a certain cachet!
Some 50 years later, he moved to Folkestone, planning to spend his time sitting and looking at the sky and the sea, and then the communication bug bit him.  Things were beginning to change in the town, and Tony had always been interested in tourism, but not in a traditional way.
"I'm very chatty and curious, and I wanted to share some of the secrets this area holds.  The idea is my tours are both informative and fun, and we'll often stop off along the way to continue the conversation over a coffee or a glass," Tony says.
After a 2017 start,  Tony offered tours of the Leas, the Harbour and Seafront and the Creative Quarter. He then added the East Cliff and Sandgate, as well as art and literary tours, now amounting to around 10 different options, taking from three to four and half hours.
"I like to keep the group size to around five or six, so that everyone can engage and get full value for money.  My aim is to tell the story of the place, to give the full picture, so it's not just history – the arts, literature, politics, the landscape and even who had affairs with who and where all feature!" he says.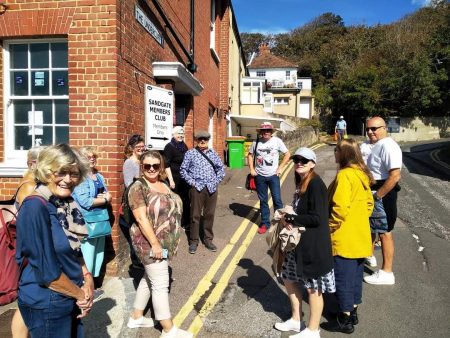 What's the most frequent response from Tony's guests we asked?  "They say "I've lived here all my life and I never knew the half of it!"" he laughs.
For more information, contact tonyquarrington@msn.com or call 07738 624522