FH STORIES | DIPPING A TOE INTO OUR COASTAL WATERS
IN THE SWIM – IN THE SEA, IN ALL SEASONS
Maybe you remember way back when, when people would brave the ice of the Serpentine in London, or wade into the sea on Boxing Day?  It was widely accepted that it was only for the very bravest among us, and regularly made the news.
Now, however, year-round open water swimming is a thing.  A big thing, and growing fast too.  Recent figures from Sport England suggest that more than 4.1 million people are swapping the pool for the pond, lakes and seas that surround us, and not just on the hot, hazy days of summer.
With some of the best beaches in the country on our doorstep, we talk to those living in the district who are using our coastal waters to aid fitness and health, find their inner peace and meet like-minded individuals.
FOLKESTONE SEA SWIMMERS
Folkestone Sea Swimmers' Facebook page has over 1400 members – a far cry from when it started three or four years ago with around 30 'regulars' who would meet at the café on Mermaid Beach.
Julie Quick, who is one of the page's four administrators, moved back to Folkestone a couple of years ago, and was looking for a good way to have some natural, healthy outdoors fun and meet people.  "It's amazing" she said, "you should try it!  Yes, we do yelp and scream at the cold sometimes, but it's all about the camaraderie and the sense of achievement you get afterwards.  You honestly feel as if you can take on the world!"
For Sarah Carpenter, it was a trip to Helsinki that persuaded her take up the hobby.  "The shorter daylight hours made me realise how I should be more like the Finns, and make the most of our weather, and be less afraid of the cold.  I started in February, which is perhaps not the best time of year, and I'd probably advise newbies to start in warmer weather and just keep going" she said.
Sarah also looks on sea swimming as a way to overcome fears and anxiety.  "When I started, I was terrified of fish and jellyfish and anything that might touch my feet!  Being aware of your own vulnerability, and how small you are in the scheme of things really helps re-set your mind.  You can't think of any of your worries while you're swimming in the sea, you have to focus on the swim, the elements, and respect the power of nature.  And when you come out, the worries are lifted."
Julie added:  "Although the group has grown so big, it's really informal, and we have everyone come along – children, pensioners, families, men, women, even dogs are known to join in.  We don't do organised events as such, but because there are so many of us now it's always possible to find a 'swim buddy' or a small group of like-minded swimmers of the same ability and experience levels."
The social side is a big element – members often meet up for beach barbecues, and moonlit swims are popular.  The Facebook page shares comments and is a particularly valuable resource for newbies – no question is too big or small, and you can seek advice on anything from what to wear or appeal for a 'swim buddy'.
LEARN WITH KIRSTY!
For those who feel a bit nervous at the prospect of launching into the deep, Kirsty Hogben runs one to one or group sessions on sea swimming, tailored to fit individual needs.
With an emphasis on safety in the water, and on having fun at the same time, Kirsty has helped thousands of people take the plunge.
She says "I'm on a mission to help others fall in love with sea swimming."
And Kirsty practises what she preaches – she's swum in the sea every day for over a thousand consecutive days!
Photo credits: Kate Noble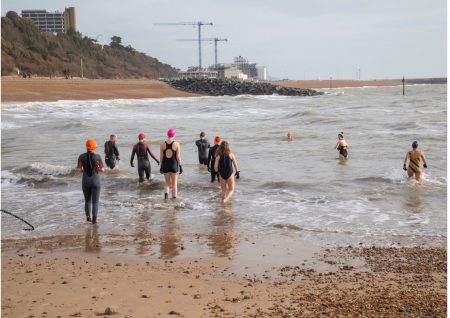 TOP TIPS ON SEA SWIMMING
Join a group – for the camaraderie and confidence-building
Never swim alone
Always check tide times and weather conditions
Don't swim too far out – remember you have to get back again
Take your mobile phone in a waterproof case
A cosy robe and a warm drink are essential afterwards
Have fun!
MORE INFORMATION
www.facebook.com/groups/178922999330430/ (Folkestone Sea Swimmers)
www.facebook.com/groups/205584503510882 (Hythe Sea Swimming)