FH STORIES | LIVING HISTORY WORKSHOPS
BRINGING HISTORY TO LIFE!
In an area as rich in history as ours, it's good to know that a flame of enthusiasm is being lit for it in primary schools too.
Tim Shephard and Coz Crawford have been bringing history to life in schools all over the South East for 12 years now.  Based in Dymchurch, there is nothing the Living History Workshops team don't know about the Stone Age, Ancient Egyptians, Ancient Greeks, Romans, Anglo Saxons, Vikings and Greek theatre!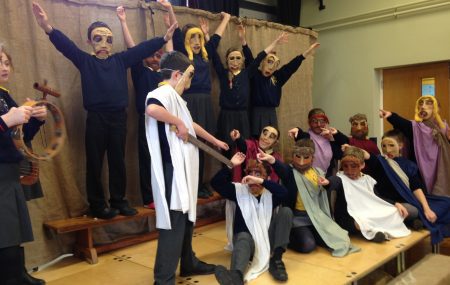 BACKDOOR LEARNING
Over 160,000 children have enjoyed – and learnt from – their highly creative and interactive workshops, where everyone dresses up to suit the period and makes a souvenir of the day to keep.  Local primary schools such as All Saints, Cheriton and Hythe Bay have all had the Living History experience.
"We call it backdoor learning, using crafts with a message, and learning from making and doing and experiencing, rather than just sitting and listening" says Coz.
Coz started Living History Workshops after working as a volunteer for the Kent Wildlife Trust, while Tim went part time from his role as a teacher to support the plan.
"We started with the Romans – as all parents and carers of primary school children will know, the Romans are a popular part of the Key Stage Two curriculum!  After a few trial days which allowed us to hone the offering, teachers started asking us to cover other areas of the curriculum too, and 12 years later we're both full time in the business" Coz explains.
WHAT DID THE ROMANS EVER GIVE US?
For both of them, the immersion into the experience is a key element.  "Walk like a Roman, talk like a Roman, and look like a Roman in Britain and you'll find out what was life was really like!" Tim says.  "We also take in original artefacts, Roman games, and authentic Roman activities, and every child makes their own protective amulet to take home.  Even literacy is included – we bring in wax tablets for writing on."  The Romans were famous for replicating the sights, sounds and lifestyle of Ancient Rome in every country they conquered, so Tim and Coz create their very own amphitheatre in school halls and the children take part in a hilarious Roman pantomime.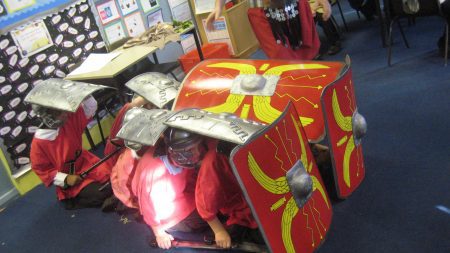 The same attention to detail is applied to the other Workshops, with highlights including mummification by the Ancient Egyptians, raiding and battle drills for the Vikings, and sacrifices and libations for the Ancient Greeks.  Tim and Coz are both careful to point out that no actual mummifications, battles or sacrifices take place… safety being a core element, but the play-acting is enough!
Both are passionate about their vision – enthusing children, encouraging them to learn through their immersion in the experience, and above all inspiring them to give things a go.
Living History Workshops run four days a week, 40 weeks of the year.  The fifth day is spent on prepping for the following week, doing admin, and washing and fixing the costumes, tools and accessories that come along to every workshop.
WORKSHOPS ON THE BEACH
As if life wasn't hectic enough, Coz and Tim run "Workshops on the Beach" – free fun for children and parents, including scavenging beach materials to create mosaics, scarecrows, fridge magnets and even jewellery.  "We wanted to encourage village visitors to learn something about the area, and take away something worth keeping, while also being sustainable and ethical.  It's really lovely to watch children and their parents get caught up in the fun, and very rewarding too" comments Coz.  "We even get recognised by kids from schools where we've run workshops" says Tim, "they ask if we remember them dressing up as a Viking, and of course we say yes!"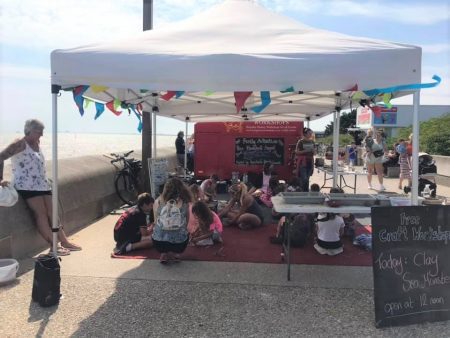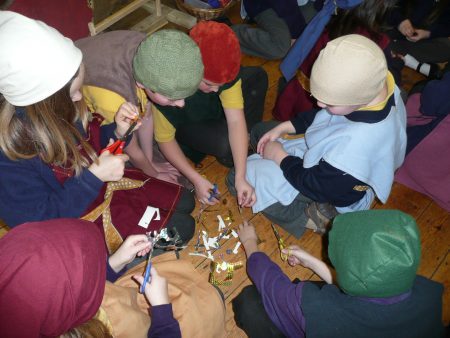 BACK TO THE FUTURE
We asked if anything was holding Tim and Coz back?  "Yes, there are only two of us" laughs Tim.  "We're always interested in meeting like-minded people – confident, dynamic, quick thinking, passionate about inspiring young people – who might want to think about joining us.  It's basically our baby, and the best job in the world!  And at the end of every day we come home to Dymchurch to enjoy the village, the beach and the surrounding countryside."
For more information, visit www.livinghistoryworkshops.co.uk.