They say every day should be a beach day … well, here in Folkestone & Hythe and Romney Marsh we have a beach for everyone, from the bucket and spade brigade to wild places to commune with the elements!
Here's a whistlestop tour of some of our favourites.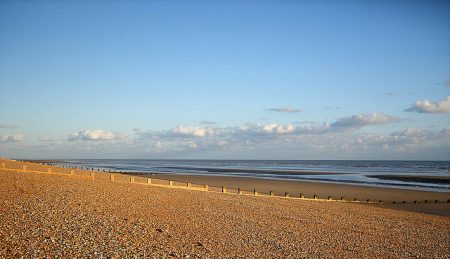 DUNGENESS
Dungeness is one for those with a wild spirit.  This spit of land sticking out into the sea is a strange combination of eerie, other worldly, landscape, fishermen's boats and shacks, unique wildlife and flora and fauna, lighthouses, and old train tracks.
Add in Prospect Cottage, the former home of avant-garde artist and film-maker Derek Jarman, an RSPB nature reserve, a nuclear power station, the final stop on the line for the Romney Hythe & Dymchurch miniature railway and a couple of good pubs and some of the best fish and chips in Kent and you're onto a winner!
Wooden paths crisscross the shingle beach, there's plenty of parking and it's dog-friendly.
Oh, and Dungeness is Britain's only desert!
DOGS: Yes
PUBLIC TOILETS: No, but available in café and pub
REFRESHMENTS: Yes
PARKING: Yes
DYMCHURCH
This three mile long beach is definitely perfect for the bucket and spade brigade.  Sandy for the whole way, it's a vast expanse when the tide is out, and the very gentle slope to the beach makes it ideal for little ones to paddle.
Up by the village you can find coffee shops, takeaways – try the fish and chips of course – pubs, amusement arcades and a traditional style funfair.  Don't forget to buy your bucket and spade, windbreak, and beach mats etc from one of the village shops – there's a great choice.
There are promenades on two levels all the way from Hythe ranges to St Mary's Bay, ideal for cycling or just a gentle stroll, and disabled access is provided via ramps at various points.  Parking is available in the village car park, and public toilets are also available.
Dog restrictions apply from April 1 to September 30 on the central part of the beach near the village, but dogs are welcome either side of the marked zone.
DOGS: Yes, restrictions apply
PUBLIC TOILETS: Yes
REFRESHMENTS: Yes
PARKING: Yes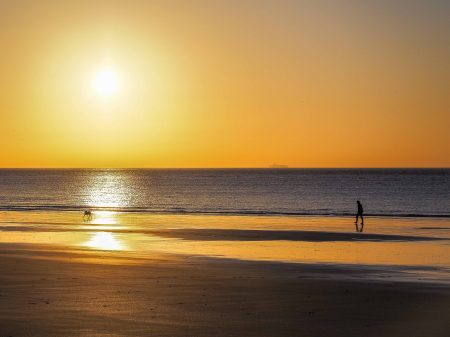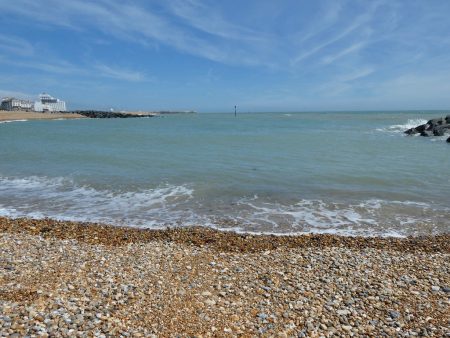 FOLKESTONE – MERMAIDS' BEACH
Follow the zigzag path down from the Lower Leas Coastal Park and you'll find yourself on Mermaids' Beach, a family friendly pebble beach (don't forget your flipflops!).  It's a great place for picnicking, swimming, sunbathing or just watching the world go by.
When hunger or thirst strikes you can potter along from here to the Harbour Arm area of Folkestone and choose from any number of tastebud-tickling food and drink options.
DOGS: Yes, restrictions apply
PUBLIC TOILETS: Yes
REFRESHMENTS: Yes
PARKING: Yes, a walk away
FOLKESTONE – SUNNY SANDS
Sunny Sands is actually the only sandy beach within an hour of London!  Popular with locals too, it can get quite busy in the summer months, but it's easy to see why.
Located next to Folkestone Harbour – check out the fishing boats – Sunny Sands is ideal for swimming, bodyboarding, and, of course, building sandcastles.  In fact, there's a very popular sandcastle competition held here every year!
A rocky area further down the beach is perfect at low tide for rock pooling and crabbing – don't try this at high tide because the beach disappears!
With Sunny Sands only a short walk from The Old High Street there are lots of great food options close by if you get peckish, or fancy idling away the hours shopping for souvenirs.
DOGS: Yes, restrictions apply
PUBLIC TOILETS: Yes
REFRESHMENTS: Yes
PARKING: Yes, nearby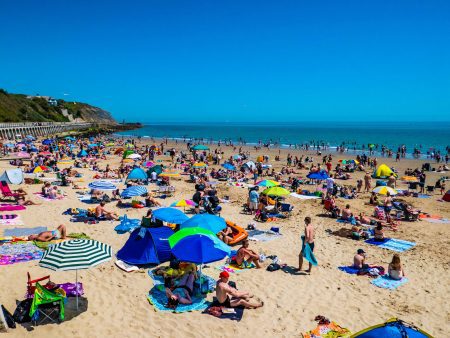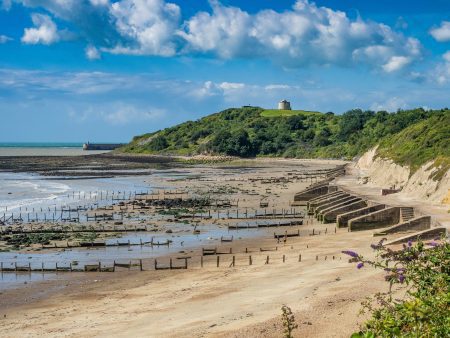 FOLKESTONE – THE WARREN
The Warren is a place for adventurous types!  Nestling in at the bottom of the Warren Country Park, you can drive down, but be warned – it's a tricky road!  Or you can hike down through the Country Park, formed by centuries of land slippage and home to a wide variety of rare animal and plant life.  Unusually perhaps, for Kent, it's also home to a herd of Highland cattle, managed – like the park itself – by the White Cliffs Countryside Partnership.
Once you get there, the Warren is a combination of sand and rocks, with excellent rockpooling at one end.  Fossil hunting is another popular occupation here, with some interesting specimens found over the years.
It's probably best to bring a picnic, because The Warren is totally unspoilt and not developed – if you don't need it after the hike down you certainly will after you've climbed back up!
Back at the top, there are spectacular views out to sea towards France, and you can find parking, public toilets, a children's playground and refreshments.  The Warren is dog-friendly all year round.
DOGS: Yes
PUBLIC TOILETS: Yes, at the top of the cliff
REFRESHMENTS: Yes, at the top of the cliff
PARKING: Yes, at the top of the cliff
GREATSTONE
Further down the coast towards Dungeness is Greatstone.  After you meander your way through the sand dunes which separate the beach from the sea and land – while enjoying the chance to spot the wildflowers in this Site of Special Scientific Interest – Greatstone is revealed in all its glory.
The beach is ideal for swimming when the tide is in, and when it goes out to reveal more sand and an extra half-mile of mud it's a popular spot for watersports and windsports like sand-yachting and kitesurfing.  Take care should you venture into the mud, it can be deceptively deep.
Back on land, there is parking, a picnic area, public toilets, and food and drink just over the road.
And, when the tide is right, there's an added bonus for history buffs – the remains of a section of a World War II Mulberry Harbour, built in 1944 for the Dunkirk landings, are visible just off the coast.
DOGS: Yes, restrictions apply
PUBLIC TOILETS: Yes
REFRESHMENTS: Yes
PARKING: Yes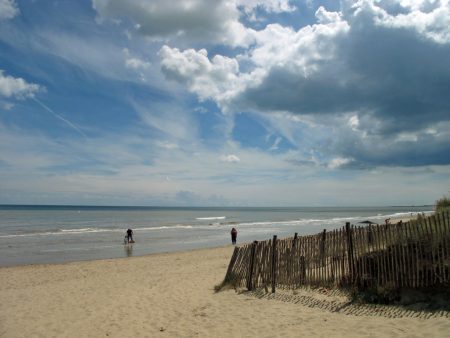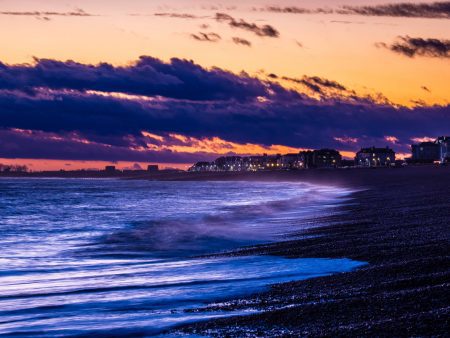 HYTHE
Hythe is perhaps a misnomer, as actually this pebbly beach with its wide promenade runs all the way to Sandgate.
Anyway, let's not quibble – Hythe Beach is a great place to while away an hour or two, or even spend the day.  The beach itself is quite sloping, and the water gets surprisingly deep quite quickly when the tide comes in – great for swimmers, just don't get caught out.
Behind the beach is the two mile promenade, with a good choice of outlets and stands selling ice cream, food, snacks and drinks, and plenty of benches to relax on.  The wide promenade is also popular with walkers and cyclists, but because Hythe Beach never gets too busy it remains a peaceful place, and on a clear day you'll be able see Calais across the water.
The promenade also makes Hythe Beach a great choice for wheelchair users, with disabled toilets being available.
DOGS: Yes, restrictions apply
PUBLIC TOILETS: Yes
REFRESHMENTS: Yes
PARKING: Yes
LITTLESTONE
Littlestone is a beach in two parts – above the shoreline it's mostly shingle, with wooden groynes reaching out into the sea, but as the tide goes out a huge swathe of rippled sand appears, ideal for sunbathing and sandcastle making.  Beyond that it turns muddy, so take care at low tide – mudholes can be tricky.
Behind the beach is The Green, which has picnic sites, toilets, a children's playground and an outdoor gym, backed by pretty coloured beach huts.  You can stock up on picnic bits from the local shop over the road.
DOGS: Yes, restrictions apply
PUBLIC TOILETS: Yes
REFRESHMENTS: Yes
PARKING: Yes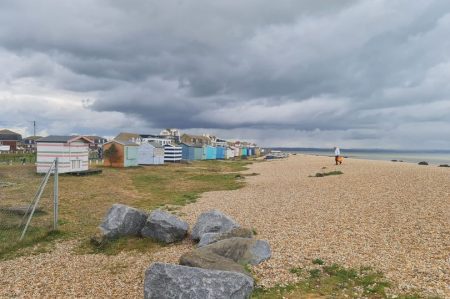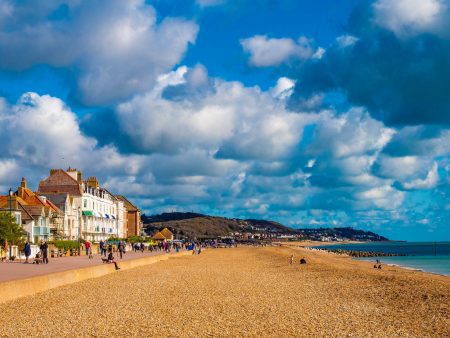 SANDGATE
We like to think of Sandgate as one of the little jewels in our crown… simply because it combines sun, sea and sand with a pretty High Street chock-a-block with a gorgeous selection of pub and cafes, antiques and collectables, and independent shops just a few steps from the beach.
Soak up the rays, and enjoy watching groups of enthusiasts kayaking, rowing and sailing just off the coast, see if you can see France (you can if it's clear), before hitting the High Street in search of some sustenance.
Facilities include showers, drinking water and public toilets.
DOGS: Yes, restrictions apply
PUBLIC TOILETS: Yes
REFRESHMENTS: Yes
PARKING: Limited
ST. MARY'S BAY
Stretching along the coast from Dymchurch to Littlestone, St. Mary's Bay Beach is a lovely expanse of sand, about half a mile wide at low tide.  Like other beaches in the area, the area next to the tideline can be muddy so care is required at times.
St. Mary's Bay became popular as a seaside resort in the 1920s, reaching its peak in the 1960s.  Today it is a popular family beach, with a wide promenade behind it and a kiosk for drinks and snacks open in the summer.
From here you can see as far as Dungeness on your right and Folkestone on your left, and you can also spot the remains of a section of a World War II Mulberry Harbour, built in 1944 for the Dunkirk landings, visible just out to sea.
DOGS: Yes, restrictions apply
PUBLIC TOILETS: Yes
REFRESHMENTS: Yes
PARKING: Yes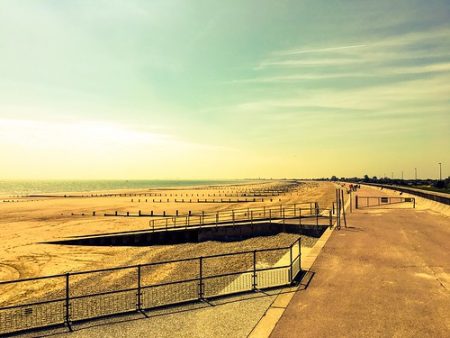 BRINGING THE DOG AND OTHER PRACTICALITIES…
Most of our beaches are dog-friendly to a greater or lesser extent – as mentioned, restrictions such as keeping your dog on the lead in certain areas will apply, so it's worth checking the precise rules at your chosen beach.  Find more at www.folkestone-hythe.gov.uk/environmental-protection/dogs-on-beaches.
More information about parking can be found at www.folkestone-hythe.gov.uk/parking/car-parks
Please remember to take your litter home with you so we can keep our beaches as beautiful as they are!
And finally, a big 'thank you' shout out to the Folkestone & Hythe District Council teams – ground maintenance, area officers, street sweepers – who help keep our beaches and their surroundings in tip-top order!