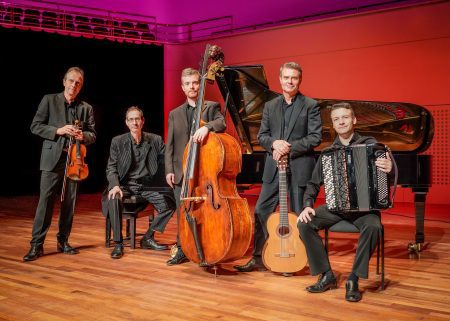 JAM on the Marsh – THE FESTIVAL WITH A DIFFERENCE
How many festivals in the world can boast 14 mediaeval venues, a steam railway, a 15 mile stretch of coastline and a desert as their backdrop?  From July 7-17 2022, Kent's very own multi-arts festival, JAM on the Marsh, takes place in the unique landscape of Romney Marsh.
JAM on the Marsh allows audiences and the local community to get up close to world-class performers and events, including: music, theatre, sculpture, art and poetry. There is something very special about experiencing great performance in small, intimate spaces.
An ancient church with a few hundred people in the audience compared with a faceless hall with a few thousand; the performers a few feet away, rather than a few hundred metres.
We spoke to artistic director Edward Armitage and marketing director Sarah Armitage about what we can look forward to this year.
A DIFFERENT FESTIVAL, A SPECTACTULAR LANDSCAPE
Edward sets the scene: "My father, John Armitage after whom the festival is named, loved the Marsh, and we holidayed here every year.  We set up the John Armitage Memorial Trust in 2000, initially to enable, promote, commission and support new music in the UK.  Since then, we have given performances of over 150 new pieces of music, either submitted to or commissioned by the charity.  It's like a who's who of British composers of our day, and many pieces have been broadcast and performed worldwide.
"In 2008, we held our first Marsh event in Lydd.  It was absolutely packed out, and we thought, we've got to do more of this!"
The 2022 event comes after the obvious COVID-related hiatus in 2020, which led to a virtual festival in 2020.  Crossing the Marsh, from Hythe to Dungeness and Snargate to New Romney, every one of the area's beautiful Marsh churches will play host in 2022, along with a mobile exhibition in a Romney Hythe & Dymchurch Railway carriage, and events at community spaces such as the Marsh Academy Leisure Centre and CineMarsh.
APPROACHABLE ARTS
"We always set out to be approachable, accessible, open and welcoming to our guests," Sarah said.  "JAM is relaxed, informal and certainly not at all stuffy!
"Sixty six per cent of our visitors come from the local area, and this is really important to us because it shows that there is an appetite here in an area which not well-served by other arts organisations.
"We keep the ticket prices as low as we can because it's all about getting people along to the events so they can enjoy them.  It's also very sociable – for example, our concerts usually start around 7pm and last for about an hour, so it's a convenient time for people to get together and then go on to enjoy the rest of the evening with friends."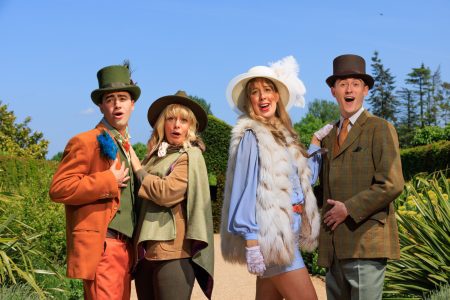 HIGHLIGHTS
July 7: Changeling Theatre opens the festival with a brand new, hysterical and irreverent production of Oscar Wilde's ever-popular The Importance of Being Earnest. This bold, imaginative and magical open-air theatre company, a festival favourite, returns to the heart of New Romney, performing at the Old School Garden, where the church and town become the play's sets.
World famous musicians: between July 7-17, concerts come thick and fast, featuring some world-famous names such as VOCES8; Lucy Crowe and James Gilchrist performing William Walton's Façade; Michael Collins with the London Mozart Players giving the world premiere of Judith Bingham's Concerto for Clarinet, a Festival Commission; Ashford Youth Jazz Orchestra and London Tango Quintet bring an abundance of melody and rhythm to get the toes tapping.
Visual art, July 7-17: six exhibitions, including a community-driven project designed by Yolanda Houston of New Romney's Teach Me, where a mosaic has been created for each of the 14 Marsh churches. These wonderful pieces of art, made by the local Marsh community, will be on display in each church as the Marsh Churches Mosaics Trail, a real legacy for a creative, community project. Other highlights include Angela C Smith's breath-taking sculpture in the transept of St Leonard's Church, Hythe and John Ballard's fabulous large, abstract oils filling St George's, Ivychurch.
Songs from St Nicholas and Brookland Primary Schools:  60 children from St Nicholas and Brookland Primary Schools come together to perform with one of the UK's finest brass groups, Onyx Brass. Conducted by Rebecca Lodge Birkebaek, the children will perform Timothy Jackson's Opening Night, a song-cycle setting brilliant poems like: Our Teacher Sings The Beatles by Kenn Nesbitt, Conjuring Kevin by Gareth Lancaster, and Rockstar by Valerie Garcia. The finale ends with: "Pump up the volume, No shirt and no pants. Jamming in my socks, My own private dance. I'm a Rockstar in my mirror with my hairbrush microphone."… What could possibly go wrong?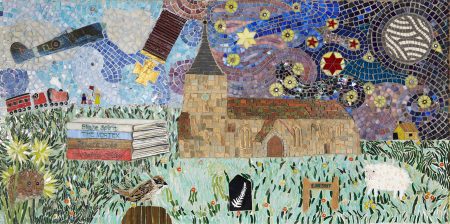 JAM on the Marsh runs July 7-17 at venues across Romney Marsh.  For more information and tickets, visit www.jamconcert.org.