FH STORIES | FELINE DOGGEOUS?!
THE PET PHOTOGRAPHER WITH A DIFFERENCE
Jen Read has packed more than many into her life so far.  Born missing an arm and with one leg shorter than the other, nothing holds her back.  A former dog trainer and security guard, her fitness meant a change of direction was required – so she became a pet and wildlife photographer.
Feline Doggeous is a pun on feeling gorgeous, and that's certainly what 26-year-old Jen's work is as she works with pets in Folkestone and around.
KYZA – WHERE IT ALL BEGAN
Kyza is Jen's almost six year old blue brindle Staffie.  After a terrible poisoning incident five years ago, which thankfully Kyza survived (with a £15,000 vet bill!) Jen decided to start documenting her dog's life.
"I wanted to have a record of Kyza, and people started seeing my work and asking me to take photos of their pets too.  To be honest, I wondered if my work was good enough, but it just snowballed.  I also diversified into wildlife photography as an extra string to my bow, particularly when my own pets started to get fed up with posing!" she explained.
"I only photograph animals, with their people sometimes, but the animal is always the focus.  If you asked me to shoot a wedding, I'd only do it if the dog was wearing a tuxedo and I could follow the dog around all day!"
Kyza is now Jen's business manager, keeping a careful eye on things in return for treats.  When asked whether cats or dogs were easier to photograph, Kyza said dogs – obviously.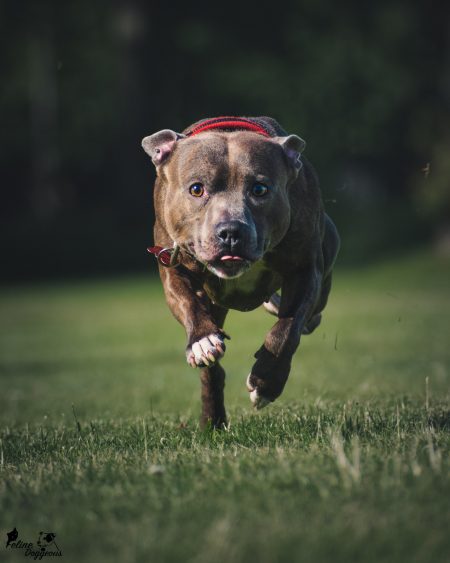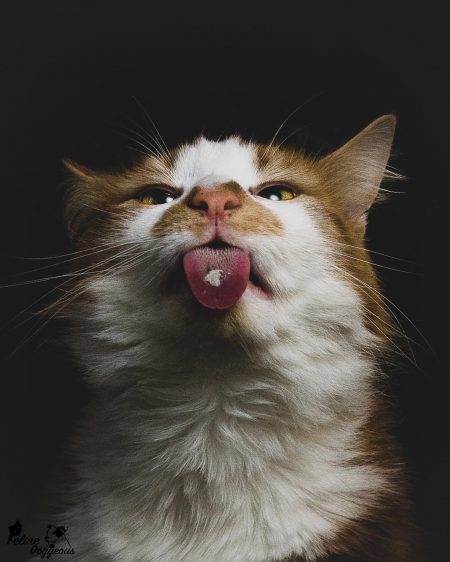 MAKING IT WORK
Jen is happy to explain the essentials for successful pet photography.  "I always go armed with dog treats, squeaky toys and of course poo bags for outdoor doggie shoots.  I have a secret weapon – a cardboard hat, to which I duct tape a cat toy to get the dog's attention – I call it my cat hat."
"My sessions are tailored to the pet's personality first and foremost, and I make sure there's a happy, carefree vibe so the animal is comfortable and free.  If owners want a specific posed photo then I tend to do that at the end of the session, so the pet is used to the whole idea."
She also has her photographic kit to contend with, and uses adapted equipment to help her focus her lenses, and her 'Rubiks cube' camera which she can flip upside down at will to get the right shot.  A wide range of lenses, including long distance ones, means Jen can capture great photos from a distance if that works better for a particular shoot.
BLACK PETS – THE MYTH EXPOSED
Black cats and dogs are the least likely to be adopted from animal rescue.  In these Instagram days, people think they are harder to photograph, so they often get left behind.
"It's rubbish" said Jen.  "What you have to remember is that black fur absorbs a lot of light, so you need to balance the light to pick up the highlights in their coat – that doesn't mean bright, harsh light, a softer light often works better.  Think about the background too – a lighter, not too busy, background will help the pet stand out.  And choose his or her best feature to focus on – the eyes are an obvious example, but big ears or coat texture are options too."
THE FELINE DOGGEOUS LOWDOWN
You can see more of Jen's work at www.felinedoggeousphotography.com.  Sessions cost £150 for a cat or other small pet and £300 for a dog, which includes a package of prints of your choice at your chosen size.  Each session is tailored to the owner's requirements.  Jen also offers FREE end of life photography for pets, capturing their final days before the sad goodbye.