FH Stories | Digital: Glassworks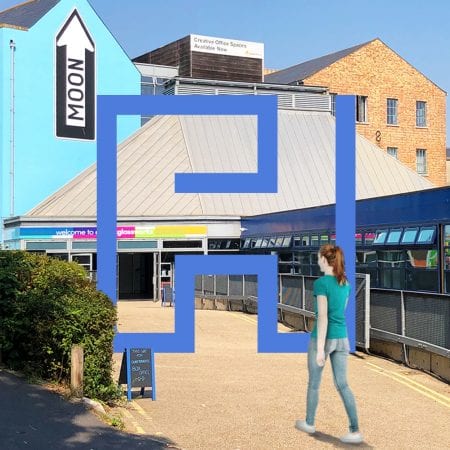 For digital and creative businesses, Folkestone is the dream location. Walking around the Creative Quarter, you'll see everyone from fashion photographers and artists to television companies and poets, all co-existing in an area of the town that's bustling with cafes, bars and other, many ethically-minded, independents.
Digital: Glassworks is one of many commercial spaces available in Folkestone and is owned and operated by Creative Folkestone, the arts charity responsible for much of the town's arts-led regeneration.
The former Victorian factory, with its characteristic high ceilings and windows, was renovated by architect Ben Allen to provide a multi-use office space for start-ups and SMEs.
The property offers hot-desking, office space of a range of sizes and an opportunity for companies to surround themselves with likeminded businesses. There's even a public performance space for networking events and presentations.
Providing a home to tech-experts and creatives under one roof, is a perfect incubator for innovation, according to Alastair Upton, chief executive of Creative Folkestone;
"We've turned [Digital: Glassworks] into a sort of creative tech space where we see things develop from having these two industries touching up against each other.
"There's a huge amount of overlap anyway between them, but we know from research that tech firms that have creative contact grow faster. Creative industries have a tendency to remain quite small so if they can think about new technologies then they can develop faster as well.
Alastair continues, "The creative and digital industries have really grown, and there is a big economy now in Folkestone. There are over 600 people living and working in the Creative Quarter.
"We launched Digital: Glassworks in April 2019, and now, in March 2020, we're about to be three quarters full!" Business who currently call the Glassworks home include Lime Worx web development and tech startup Hack The Box, as well as dress makers The Robing Room and School of Stitch and macramé maker Heather Orr.
For young tech experts and creative minds, the allure of Folkestone is clear: it's an Instagrammable haven by the sea, with all the benefits of the nearby countryside, while being under an hour from London with superb links by ferry and train to Europe. "I can have a meeting with Google in London at breakfast and be back in the Glassworks for a mid-morning catch-up," Alastair explains. "I have colleagues who swim in the sea in their lunch break! If you could be anywhere, like lots of digital firms, why wouldn't you choose to be in Folkestone?"
For more information about Digital: Glassworks and other office and work spaces operated by Creative Folkestone, visit their website at: creativefolkestone.org.uk